Hydrotherapy (Water Treadmill)
Dr. David Knox, one of the few certified canine rehabilitation practitioners in San Diego County, provides rehabilitation, treatment, and therapy for dogs recovering from a variety of ailments and/or managing chronic musculoskeletal diseases. At Companion Animal Health & Rehabilitation Center, we're proud to offer hydrotherapy with an advanced water treadmill system to our canine rehabilitation patients in Escondido, Temecula & Murrieta.
Hydrotherapy is a treatment modality used in physical therapy. It makes use of water's beneficial properties to assist with the rehabilitation process. This includes:
Buoyancy reduces the weight and stress on joints, helping to support weak or injured patients.
Resistance, while moving through the water, gently strengthens atrophied or weak muscles.
Temperature control soothes muscles and joints, while improving circulation with warm water.
Hydrostatic pressure, the pressure of water pressing against your pet's body, reduces swelling and benefits circulatory problems.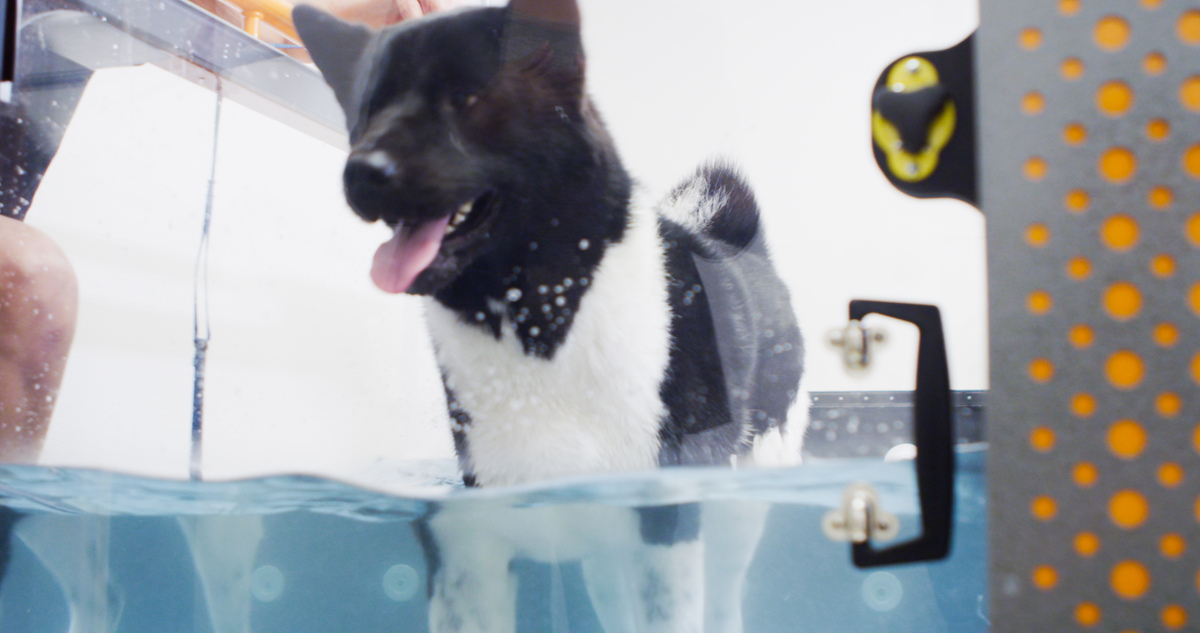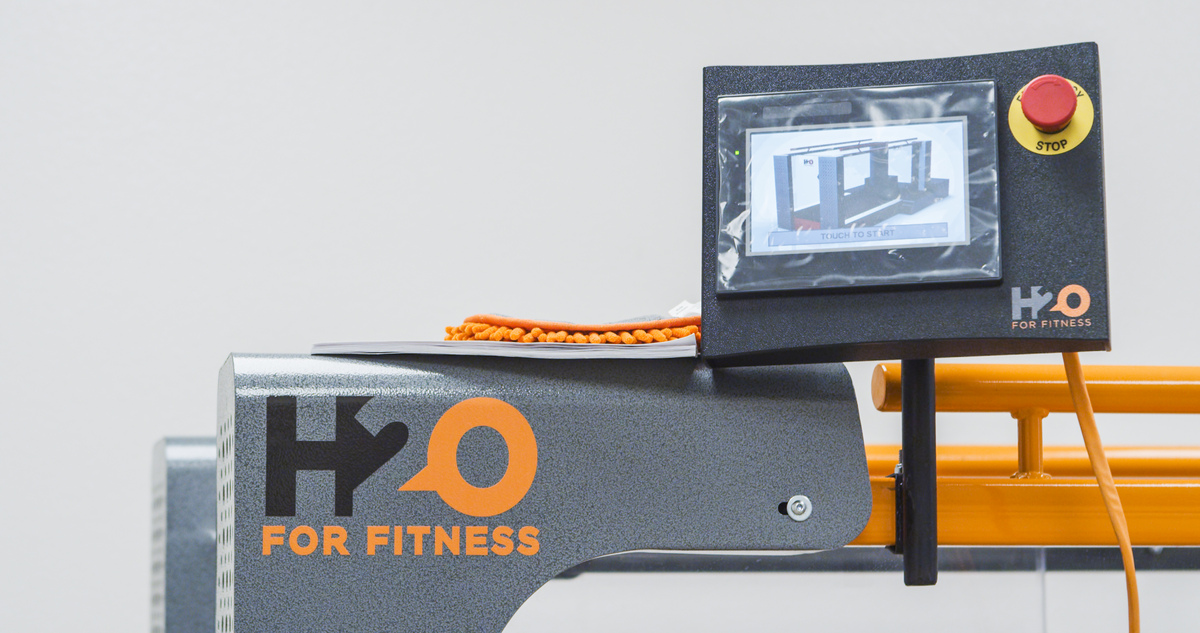 What's an Underwater Treadmill?
An underwater treadmill is pretty much exactly what it sounds like. It's a treadmill encased in a tank that allows a pet's joints to be submerged while walking for rehabilitation or conditioning.
We often recommend the underwater treadmill over swimming for a variety of reasons. It tends to be a more balanced form of hydrotherapy, as dogs cannot favor one limb over another. The treadmill also requires dogs to use their full range of motion, while swimming does not. With the underwater treadmill, Dr. Knox can control how fast a patient moves and how much weight they bear. Walking a dog onto the treadmill is also less frightening for dogs who are uncomfortable in water.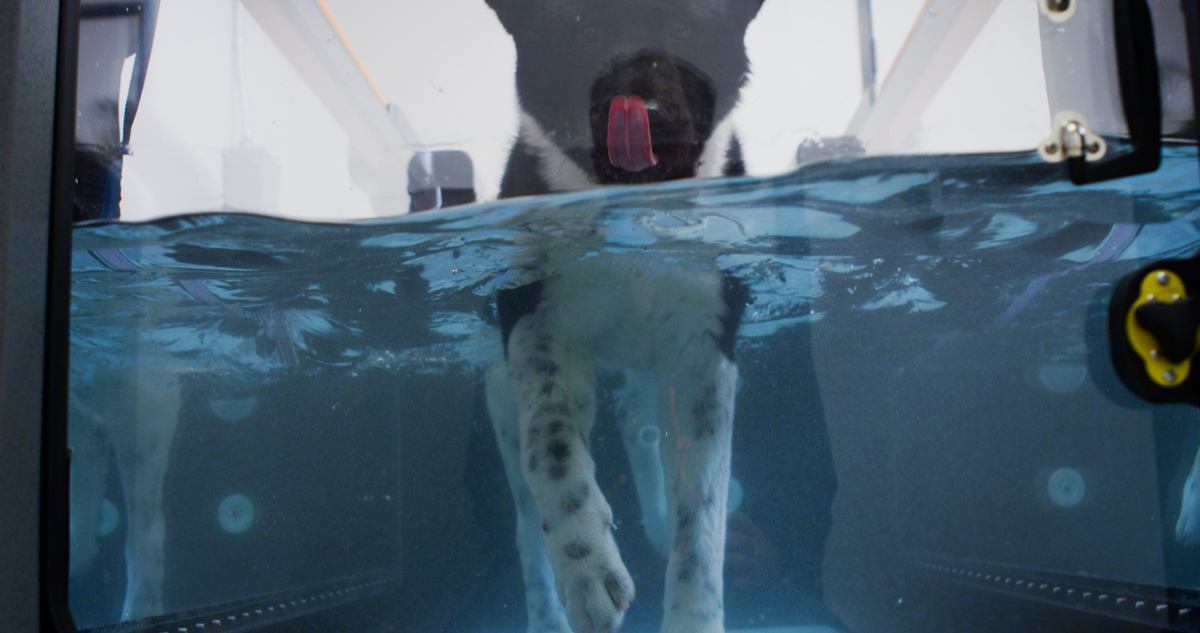 How Can Hydrotherapy with an Underwater Treadmill Help My Dog?
The underwater treadmill can benefit dogs with a variety of conditions, such as:
Arthritis – Less weight on joints and a massage from warm, soothing jets, provides relief.
Post-Operative – With a water treadmill, pets recovering from orthopedic surgery can remain active, while restoring range of motion and flexibility.
Neurological Conditions – The water's support helps patients walk and gain strength.
Canine Athletes – The water's resistance and our veterinarian's ability to control the speed of your pet's exercise make the water treadmill a perfect place for athletic pets to safely train.
What Happens During an Underwater Treadmill Appointment?
Your dog will be assisted onto the treadmill. The tank will then begin to fill with water, which comes in from the bottom and rises gradually. As it reaches your dog's paws, the treadmill will slowly start up, distracting your dog from the water and prompting him or her to walk.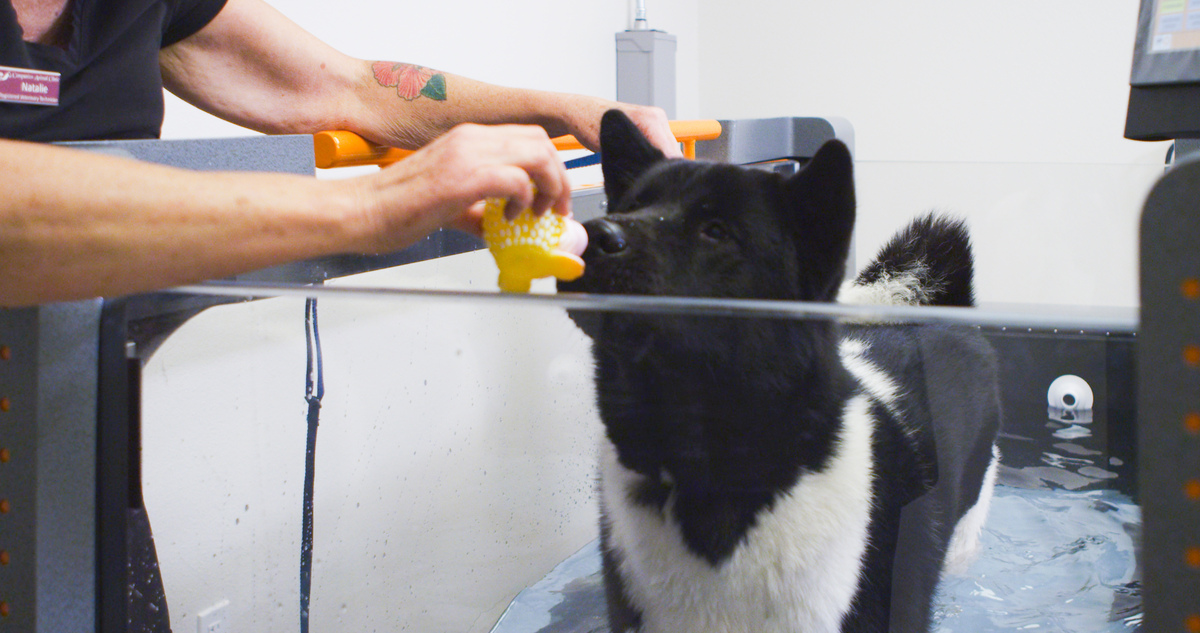 We offer hydrotherapy with a state-of-the-art underwater treadmill system. The H2O Fitness Oasis offers pets a calm experience with completely customizable settings. At Companion Animal Health & Rehabilitation Center, your dog's rehabilitation experience will be designed to meet his or her individual medical needs. For more information about canine rehabilitation or underwater treadmill therapy in Escondido, we welcome you to contact our office to schedule a consultation with Dr. Knox.